UPDATED WITH EVENT PHOTOS: Chatham company DeFalco's Instant Towing using tow trucks to raise awareness and funds for lung cancer research
Trucks with Lung Cancer Foundation of America signage honor owner and founder who died of the disease in November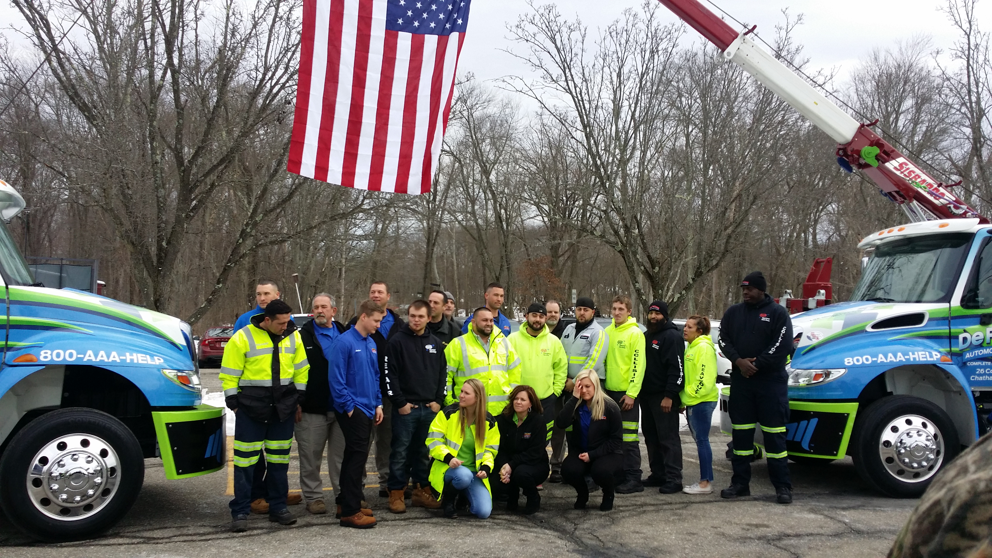 You have probably seen DeFalco's Instant Towing trucks helping stranded motorists for decades. The family of DeFalco's owner, Bill Rempfer, a local businessman and active community member who passed away at the age of 66 in November, thought this would be the perfect vehicle for honoring their dad. The specially-wrapped trucks will display Lung Cancer Foundation of America imagery for drivers on New Jersey highways to see, day and night.
The trucks will be unveiled in a short ceremony on Saturday, February 11th, after a procession through Florham Park with a police escort. DeFalco's Instant Towing is a family business Bill Rempfer and his wife Cheryl started in 1994. Before that, Bill served as a special police officer in the Florham Park Police Department. His family decided to make lung cancer research part of Bill's legacy by using the flatbed tow trucks to raise awareness and funds. Any family who has been touched by lung cancer is invited to attend.
WHAT: Unveiling of DeFalco's Instant Towing trucks with LCFA signage to raise awareness about the need for lung cancer research funding
WHEN: Saturday, February 11 at 1:00 p.m.
WHERE: Florham Park Recreation Center, 111 Ridgedale Ave, Florham Park, NJ 07932
"Bill Rempfer, my daddy, was a selfless man who helped many in need and gave back to the community through his support of local churches, youth sports teams and local and state police and fire departments," said his daughter April, one of six Rempfer children. "We're honoring his hard work, dedication to his family and his businesses with this project."
Lung cancer is the #1 cause of cancer death in the United States, killing more than breast, prostate, and colon cancer, combined. Research has led to promising new treatments for lung cancer in the past several years. But more funding is critical for developing new treatments and a cure.
"We are so grateful to the Rempfer family for this loving tribute to Bill Rempfer's memory," said LCFA Executive Director, Jim Baranski. "With new treatments developed all the time, we know that increased funding is the path to a cure for this terrible disease. Life should take your breath away, not lung cancer."
PDF of this press release
PDF - 9.7 Mb
Download
Diane Mulligan
Public Relations Contact, M&C Communications