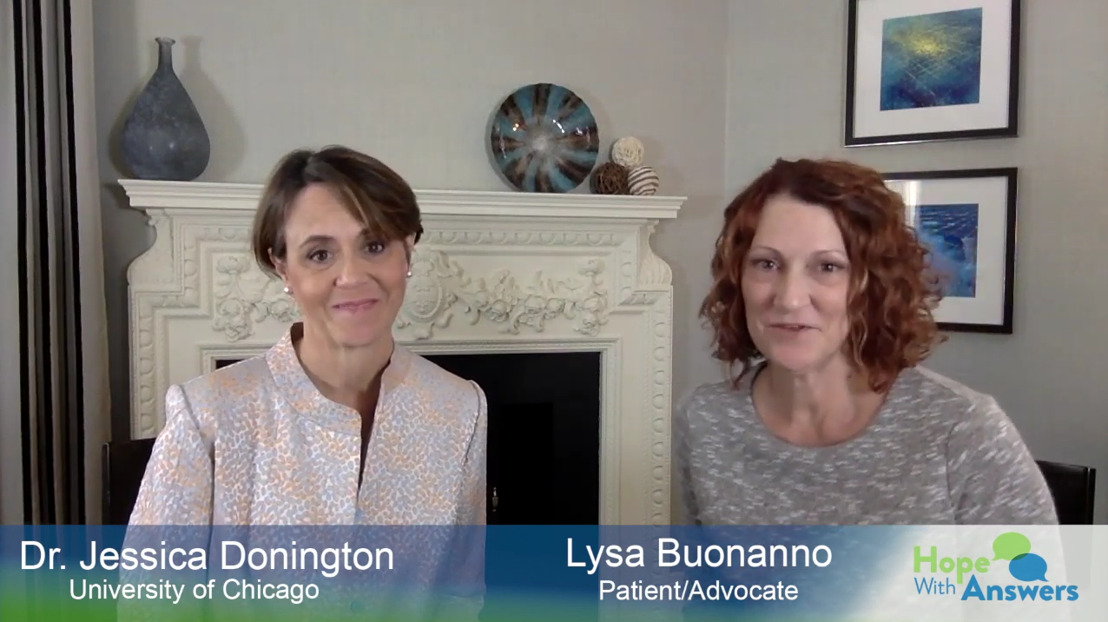 Hope With Answers video podcast by Lung Cancer Foundation of America answers questions for the newly-diagnosed
Patient advocates get answers about the latest lung cancer research and treatments from top lung cancer doctors and researchers
An innovative new project through the Lung Cancer Foundation of America (LCFA) is turning the tables on the traditional doctor-patient relationship by letting the patients ask the questions, follow up for more details, and dig deeper into the latest topics, treatments and research.
Hope With Answers features lung cancer patients and activists talking to top lung cancer doctors and researchers on the front lines of the battle against lung cancer.
Some of the topics in Hope With Answers include:
Liquid biopsies: a simple blood test being tested to diagnose lung cancer and find biomarkers that could lead to better treatments.

Immunotherapy: drugs that help a patient's own immune system fight cancer without damaging healthy cells.

Targeted therapies: drugs developed for specific biomarkers found in some tumors that slow the cancer's growth.
Hope With Answers answers questions people may not think of while they're in the doctor's office and go deeper into terminology many probably haven't heard before but need to understand to get the best possible care. The videos are available on demand in a scaffolded format so users can quickly access the information most useful to them.
LCFA's mission is to fund new research into better ways to diagnose and treat lung cancer. To attract the best and the brightest to the field of lung cancer, LCFA partners with the International Association for the Study of Lung Cancer to fund grants for young investigators pursuing a long-term project over the course of multiple years. To date, $3.5 million in grant funding has been distributed.
Lung Cancer Foundation of America is leading the fight against lung cancer with hope, research, and information for lung cancer patients. Thanks to LCFA's work and others, lung cancer can now- in some cases- be managed as a chronic condition.
Sarah Beatty PR Contact at M&C Communications | on behalf of Lung Cancer Foundation of America