Young Myrtle Beach woman honors her father's legacy and raises awareness of Lung Cancer Foundation of America's mission by helping others weather the storm
DeFalco's Automotive & Towing uses Lung Cancer Foundation of America-wrapped tow truck to patrol Myrtle Beach roadways during Hurricane Florence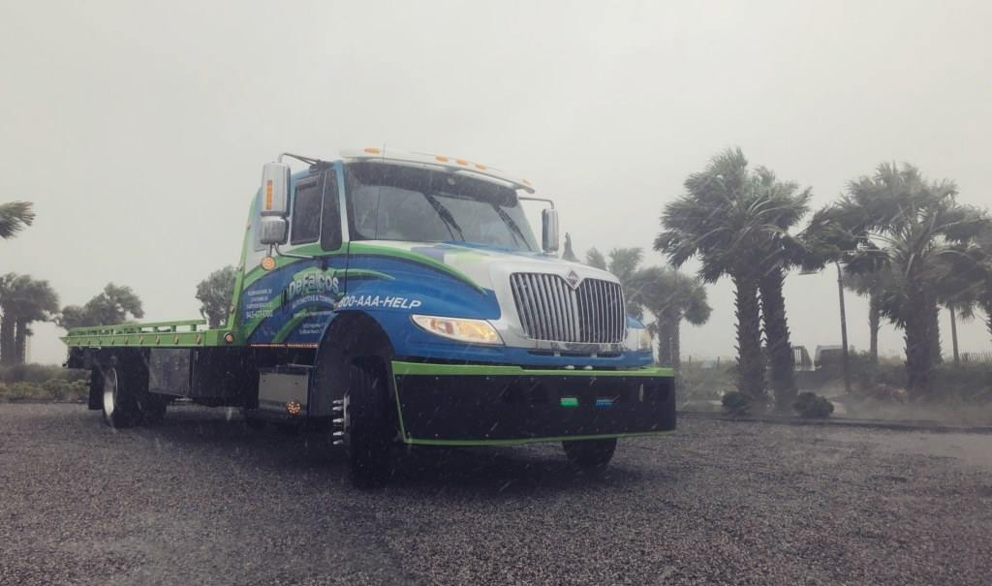 DeFalco's Automotive & Towing trucks have been helping stranded motorists for years on the roadways around Myrtle Beach, South Carolina. Bill Rempfer was the owner, along with his wife, Cheryl, long before their family was involved with the Lung Cancer Foundation of America (LCFA).
Bill was a larger-than-life, strapping man: a former New Jersey police officer and an active community member who passed away at the age of 66 in November 2016. Today, his youngest daughter, April DeFalco-Rempfer, carries on her father's legacy through her work with LCFA raising awareness of lung cancer.
September's Hurricane Florence that slammed into the coast of South Carolina sent millions of people scrambling inland to escape the storm's path. DeFalco's Automotive & Towing kept their fleet of tow trucks- including one with LCFA signage honoring Bill Rempfer- running during the storm, to make sure that no one trying to escape the hurricane got caught out in the hurricane due to a breakdown. ​
The Rempfer family wanted to use the truck with LCFA signage to raise awareness of the need for increased lung cancer funding. Because of the spotlight that people like April have brought to lung cancer, new research is showing tremendous promise for easier ways to diagnose and treat lung cancer patients.
A simple blood test called a liquid biopsy is showing promise for being a tool to diagnose lung cancer and find biomarkers that could lead to better treatments.
Immunotherapy, which uses a patient's own immune system to fight the cancer cells, is showing great promise. And targeted therapies- drugs that target specific biomarkers found in some tumors- attack just the tumor and not the surrounding healthy cells.
With Lung Cancer Awareness Month in November just around the corner, now is a perfect time to share April's story and the stories of other lung cancer patients working to increase research funding.